Social sharing options are must for any blog Blogger or WordPress. It help readers to share contact with their all social networking sites in return you will get few traffic from these shares. When you spend a lot of time writing a blog post , you want people to be able to share it. Here are Top 10 Best Social Sharing Plugins For WordPress! to help your readers share your hard work.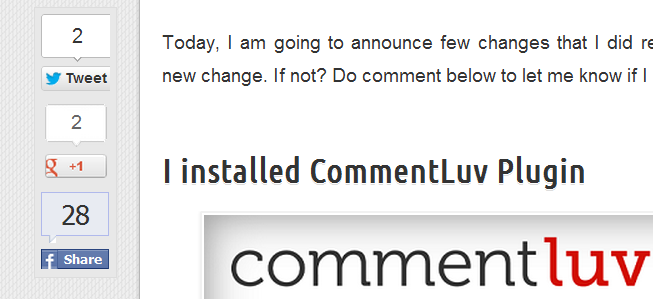 Sharebar plugin adds floating social sharing buttons, dynamic and fully customizable vertical box to the left of a blog post that contains links/buttons to popular social networking sites. Normally it contains Twitter, Facebook, Digg, SU, Email button we can add more buttons easily as per our needs. We can also customize background, border color, margin etc. Currently I am using this you can see this at left site of this post. Its just awesome plugin and is #1 among Best Social Sharing Plugins

This plugin Adds an attractive social bookmarking menu to your posts, pages, index, or any combination of the three. Easy to use! with cool hover effect. It comes with lot of best social bookmarking buttons you can select which one to show. It also provide analytics to track no of shares.

WordPress plugin for twitter, facebook, Google +1 and other social share. It Can add the sharing buttons before post contents, after and also floating too. We can easily customize its border, background color. Very easy to use with lots of features.

Digg Digg all in one social share buttons plugin. It Add a floating bar with share buttons to your blog. Display all popular social sharing buttons with count, such as Twitter, Buffer, Facebook Share, Facebook Like, Digg, Google +1, Pinterest and much more. You can easily adjust it as per your needs.

This plugin Provides an easy way to add actionable social bookmarks to your posts content or below the post in a 'Call To Action' box. Many more features. You can also add small message with these buttons. You can customize buttons with required size like small, big, tall even you can edit background, border of these social sharing plugins.

The ShareThis plugin enables users to share your content through Email,Facebook,Twitter, Google +1, Like, Send and many more. It comes with 3 styles. Simple icons. Icons with counter and big buttons with counter as you can see in above image. This plugin is ranked #6 in our list of best social sharing plugins for wordpress :
Smart social -one awesome wordpress plugin smart social is one powerful , fuel customizable ,social sharing WordPress plugin that enables your site users to share the page to various social or bookmarking network. It have your different icon sets with hover effects. PSD also includes so that you can customize . You can buy this for just 6$. Its just awesome plugin with cool hover effect.


SocioFluid is a Social Bookmarking/Sharing Plugin, displaying small icons, which grows when the mouse is moved over, similar to mac effect with awesome hover effect.

The AddThis Social Bookmarking Widget allows any visitor to bookmark and share your site easily with over 330 popular services. Very easy to you. Allow you to customize it as per your needs.
Last plugin of our best social sharing plugins collection for wordpress that "Sociable" it's totally FREE, has over 1,5 million downloads and is another best plugin for WordPress you can have a look at above image to see how it looks!
Final Words!
Those are my collection of Top 10 Best Social Sharing Plugins For WordPress to making your blog more shareable for your readers. Have you tried any of them yet? Which one are you using Now ? Do you have any other solutions I have missed with this post?
Over to you now.
Do you think that my collection of best social sharing plugins could be useful for you too?? Do let me know in comments